HEARING IMPLANTS
Cochlear Implant
Cochlear implants are surgically implanted hearing systems specifically designed for people with severe-to-profound sensorineural hearing loss. Cochlear implants enable people to overcome hearing loss connected to inner ear problems by taking over the role of the hair cells and successfully transmitting the signal to the brain. Cochlear implants consist of two parts: an implant and an externally worn audio processor. Getting a cochlear implant is a chance to overcome hearing loss!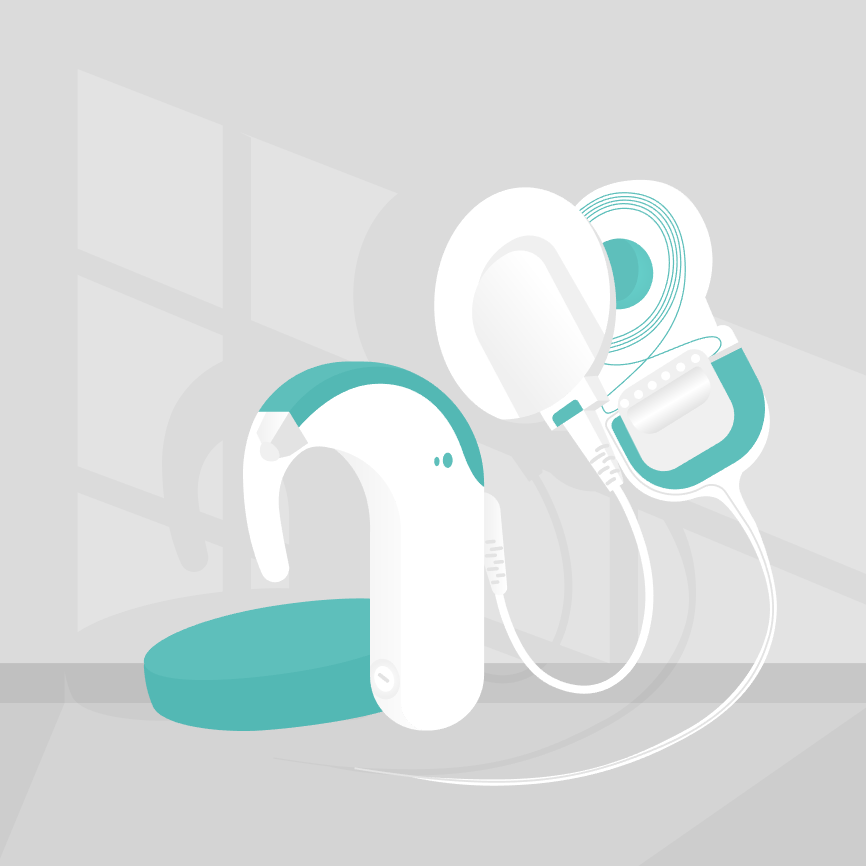 Cochlear Implant System recommendations
Based on the long first-hand experience that the members of the Cochlear Implants Austria (CIA) community share and based on the expert opinion of the association's president, we recommend MED-EL´s SYNCHRONY cochlear implants. This type of cochlear implant can be combined with two different audio processors: the RONDO 3 single-unit processor or the SONNET 2 behind-the-ear processor which are both presented below.
Choosing the right Cochlear Implant System
There are several criteria that need to be taken into account when choosing a cochlear implant, such as natural hearing experience, preservation of residual hearing, reliability, and compatibility with different medical examination methods. We made a list of important selection criteria for you below.
Read fascinating stories
about cochlear implants!
When new parents receive the diagnosis "profound hearing loss" in their child, they are usually shocked. But thanks to the latest medical technology and cochlear implants, there is a solution for it! 

The results with hearing implants and with conventional hearing aids are constantly improving and the limits of use of these different systems are in a constant change.

How well the school will go for children with cochlear implants depends on several factors. The persistence of the parents is one of them.

Unilaterally deaf professor supervises further development for hearing systems While university professor Dr.Florian

After a rare disease called neurofibromatoses that affected her hearing, Elena-Daniela Nistor can hear again thanks to a brainstem implant.

After health problems, mental training has not only helped Mag. Peter Kmetyko return to the top with his bike, but it has also helped him cope better with hearing problems and learn to live with his BONEBRIDGE implant.

Dr. Ruth Zöhrer studied medicine and has a PhD in biology. Today, she is involved in studies that measure, among other things, how hearing implants affect the quality of life of the CI users.

Patrick Beganovic recalls of his daughter Maja's diagnosis - profound hearing loss. Thanks to cochlear implantation at the Linz University Hospital, the family is now happy to hear Maja's first words.

In September, the first robot-assisted cochlear implantation in the German-speaking area took place in Vienna.

We focus on the town of Bethleem at the turn of each year. However, we do not know much about life with hearing loss in Palestine.

Functionality and attractive design of visible parts of cochlear implants help the acceptance of hearing aids, making it easier for the affected to live with it and for the candidates to make their decision.

For over 30 years, MED-EL is an internationally renowned example of synthesis of research and development in medical technology. A new compendium provides an exciting overview of the most important research areas of the company.

In order to listen to music with better sound quality, Karl-Heinz Fuchs even gave up five percent speech intelligibility when setting the TEMPO+ processor.

Today we are talking from the heart of production of Cochlear Implants: the Implant Development. The experts expain how cochlear implants are developed.

Tahlita from South Africa spent the best day of her life right in the middle of the Corona-crisis. Her mother Bianca Birdsey explains how it happened.

FCEI, the Network for Family-Centred Early Intervention, has been online since February and is also talking about surprising effects of the pandemic on families.

Manufacturers of cochlear implants are announcing many innovations for the next few years. On the other hand, users' requests seem almost modest: simple audio accessories and more focus on music.

There are many reasons why medical professionals want to get the inner pictures of their patients' organs. But, the users of MED-EL hearing implants are well prepared for this!

Find out more on how cochlear implants can relieve persistent ear noise (tinnitus) in single-sided hearing loss.

Read the stories from the bilateral CI users and their personal experience and comparison of cochlear implants.

People with hearing implants often need help when they are in the hospital or in nursing home. Find out more on early and good preparation.

COVID-19 infection can impact the lives and hearing of those affected. Two people describe their experience.

New program for MED-EL cochlear implants called MAESTRO 9.0 improves fidelity and enhances user hearing experience.

Wireless streaming will be possible for all SONNET users – with no other accessories. It is made possible by a special case for the battery compartment: AudioStream.

MED-EL became the first manufacturer of hearing implants in the world to be certified according to the new EU medical products regulations in March 2020.

US nurse Alley Mason works in the intensive care department of a clinic in Texas and is a cochlear implant user.

Direct effects of the Corona virus on ability to hear are the subject of controversial discussion by experts.

With the new application AudioKey, users can control their MED-EL SONNET or SONNET 2 directly from their smartphone.

Many hearing-impaired people use lip-reading for communication - the obligatory mouth and nose masks are a barrier.

Even users who received their first cochlear implant years ago may benefit from bilateral implantation.

An insight into why binaural hearing and music complement each other, lead to better speech understanding and why together is better than alone.

Brigitte is so satisfied with her cochlear implant that she now wants one for her other ear.  It was not always like this.

Sabine Weinberger-Pramendorfer is extremely satisfied cochlear implant user and wants to encourage candidates to go for it.

For seven years, 13-year-old Valentin from Austria could only hear in one ear. While his hearing loss remained undetected for a long time...

About half the cochlear implant (CI) recipients use a hearing aid in the other ear. To ensure that these two different hearing systems work together well, the CI needs to replicate natural hearing.

Cochlear implants are designed to help develop these essential everyday life abilities in people with unilateral hearing loss.

AudioLink is a wireless all-rounder that makes enjoying music with cochlear implants more comfortable.