Modern CI design promotes acceptance
Functionality and attractive design of visible parts of cochlear implants help the acceptance of hearing aids, making it easier for the affected to live with it and for the candidates to make their decision.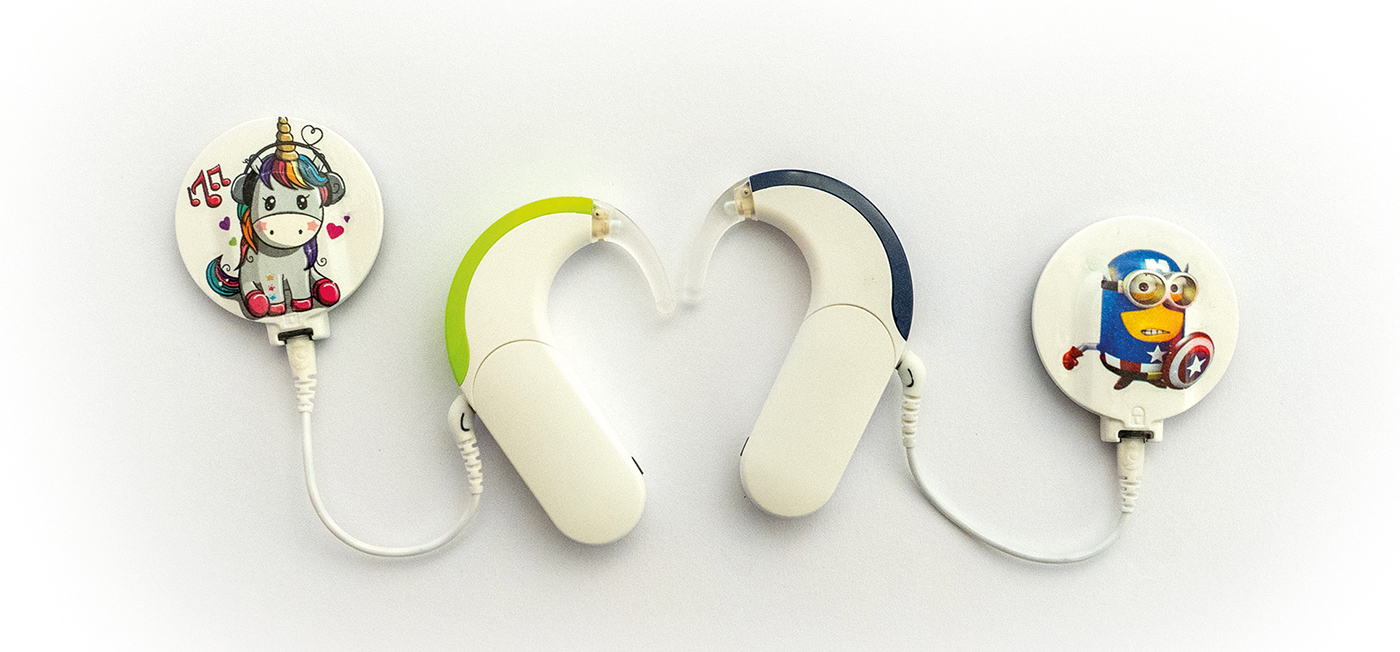 "More people wear glasses than hearing aids, which is why glasses are considered more normal," explains Mag. Franz Muigg, head of pediatric audiology at the University Clinic for Hearing, Voice and Speech Disorders HSS in Innsbruck. "In addition, a hearing aid or an audio processor still seems to have some stigma of limited fitness (due to aging process) attached to it. Years ago, the fashion world discovered glasses as an attractive stylistic device, and people sometimes wear it as part of their accessoire without necessity. But, people wouldn't do that with a hearing aid."
Fashion consciousness and an awareness of outward appearance in generall, usually gain importance during adolescence. "During this phase, adolescents want to be like everyone else as much as possible. They want to follow their role models. And most of all, they don't want to offer any potential reasons for exclusion." He adds that self-awareness develops only gradually. "But only a few older people that I know find that the size and visibility of hearing technology play an important role."
Shape and connectivity
Of course that conspicuous hearing aids with a "prosthetic look" are then a hindrance. As an experienced psychologist, Muigg knows two main aspects to promote their acceptance. "Of course that size and shape of the hearing aid play an essential role for adolescents and adults! Another advantage is integrated connectivity. For example, if the hearing aid can receive audio signals directly from the Bluetooth device, especially the cell phone, that promotes acceptance of the hearing aid."
Only since the introduction of the "Bluetooth Low Energy" (BLE) standard, manufacturers of both transmitting audio devices and receiving hearing aids had the opportunity to integrate the appropriate connectivity. The audio processors for hearing implants are also taking advantage of this.
Hearing care for children
"At the beginning of the fitting process, many parents want hearing technology to be as inconspicuous as possible so that their child is not perceived as hearing impaired at first glance," Muigg talks from experience. He further suspects that, "processing the diagnosis can play a role in this." After all, a special design for children is not just about appearance, size and weight, but also about functional features such as fastening options or battery compartment safety.
From kindergarten age, children usually choose the appearance of their audio processor themselves. "They're also often proud of their hearing device that others don't have." It's no wonder that children often pick bright colors when upgrading their processor.
---
Rondo 3: a great design
MED-EL's latest CI audio processor RONDO 3, has won two design awards: the iF Design Award and the Red Dot Design Award. The deciding factor was the combination of outstanding technology with convenient, modular design and variable wearing options.
The cover of the RONDO 3 can easily be changed. This means that the color of the processor can be adapted like fashion accessories, as there are over 30 different design covers. The signal processing is state of the art and offers best sound and optimal speech understanding. The award-winning AudioLink turns the RONDO 3 into a Bluetooth receiver that can stream high-quality audio signals.
Markus Dilger, the engineer responsible for the development of RONDO 3, summarizes it: "Our goal was to develop a clean-working, robust, easy-to-use product with aesthetic quality. "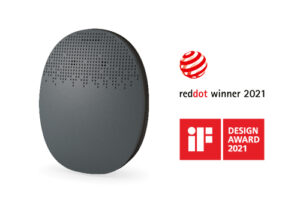 A cool design for a CI
Since last August, there are new design covers for the transmitting coil of the SONNET and SONNET 2 audio processor, as well as for RONDO 2, RONDO 3 and SAMBA 2. For example, there are marble patterns in white and black, "Tiger", "Autumn Leaves" and "Retro", as well as "Berry" and "Night Sky". In total, between 11 and 24 different patterns are offered in addition to six colors, depending on the processor type.
Nadine Gander from the hearInn hearing aid studio in Innsbruck has found a way to make individual motifs suitable for children. She applies temporary skin tattoos to the cover of the DL coils. Since hearInn is also a MED-EL service partner, the dedicated hearing aid acoustician looks not only after hearing aid users but also about the users of hearing implants. "I got this idea from my neighbor's daughter, who wears a CI and eagerly wanted more variety in the motifs of her coil covers. So, I took some old coil covers and tested how I could fulfill her wish." Ultimately, the customization had to be skin-friendly, but also durable and resistant to UV light or perspiration. "When she saw her new lids, the joy was huge!" That encouraged Gander to expand the idea and offer it to other CI users as well.
Right now, she's decorating DL coils from MED-EL BTE processors with ready-made tattoos. Alternatively, the young users can print self-made pictures on dermatologically tested foil for temporary tattoos. The acoustician secures the tattoos with earmold lacquer to make the decoration more permanent. In future, she hopes to expand the service to include battery cases and elegant designs for adults. "I hope to not only bring joy to the users, but also increase social acceptance and tolerance for people with hearing loss."
For users who aren't that crafty, the company DeinDesign offers adhesive design foils. They offer thousands of ready-made patterns and designs, as well as the option to use your own drawings or photos. This way, the coil cover, the audio processor and some accessories can be decorated.
Find information on design covers and design foils at www.medel.com under "Solutions for hearing loss – Accessories". For information on tattoo jewelry for the DL coil, contact Nadine Gander at the hearing aid studio hearInn, on Facebook at design.your.implant or via design.your.implant@gmail.com.
Read more about RONDO 3 here!