Good hearing with a hearing implant in the hospital or care home
With a hearing implant in the hospital or in the care home: especially when you rely on help, good hearing is especially important. Early and good preparation for hearing implant users can help.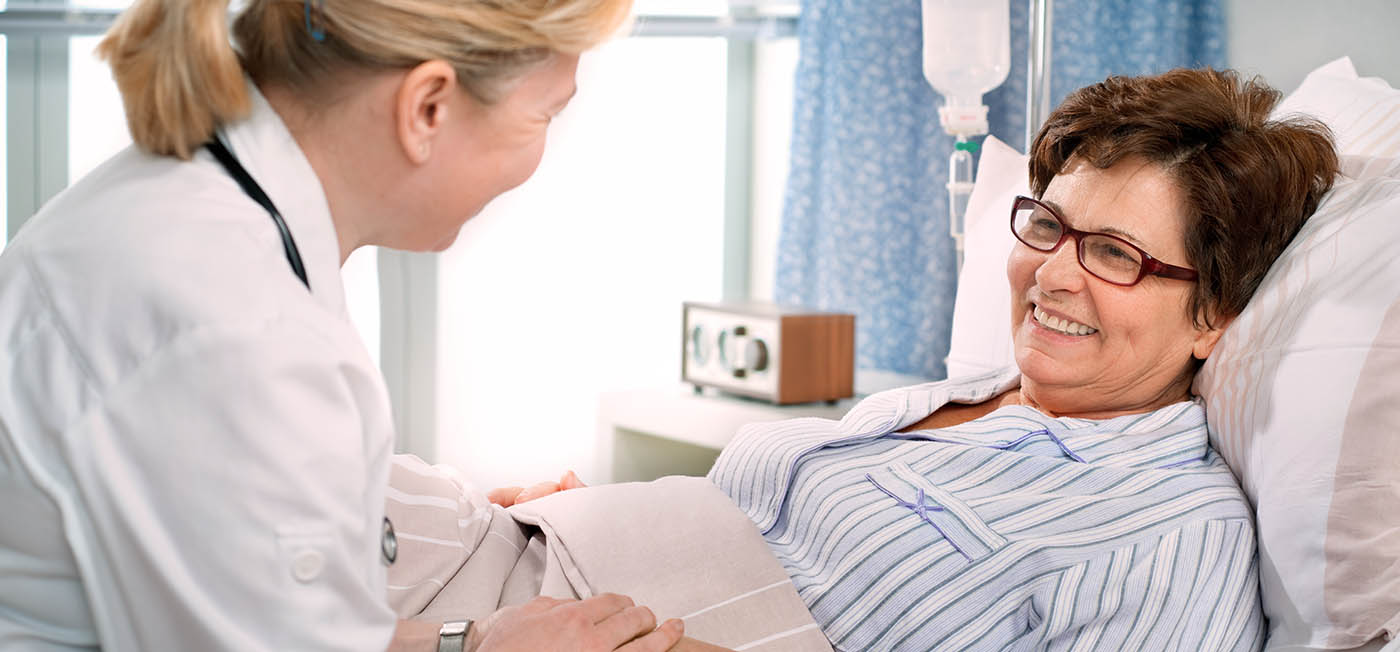 What if you have a hearing implant and have to go to hospital?
"Imagine you have to go to hospital and stay in quarantine. You use a hearing implant but no-one there knows what that is." That is how Reinhard Zille of the Bavarian CI Association described the nightmare of many CI users at the 2020 general meeting of the European  umbrella organisation EURO-CIU.
As soon as a patient with a hearing implant is no longer capable of taking care of himself or herself alone– after an accident or a surgery, due to an illness or due to age– that patient relies on the care staff remembering to keep hearing aids functioning and ensuring that they are reliably available during waking hours. Here are some tips for avoiding all kinds of problems.
People with hearing implants should plan their hospital stay
If you are planning a hospital stay, make sure you have spare batteries and possibly replacement cables in good time. If a change of the microphone cover is due shortly, this can be brought forward to be sure. Keep test sheets, chargers, dry box and preferred additional devices, like an induction loop or audio link, ready. If you want to change the processor or use the induction loop, the remote control or smartphone should also come with the corresponding application.
Operating handbooks or QuickGuide will make it easier for the hospital staff to help you, in case you are unable to operate the audio processor yourself or change the batteries. If available, bring instructions on medical treatment with the hearing implant with you. Your implant identification card should be part of your personal ID document.
Don't forget to take a box with you to store the devices in during the night– that could also be a dry box. With a head band or other fixing aid, you will not lose your processors so easily if you nod off in bed during the day.
Hearing problems are not immediately recognisable in hospital
Outside the ENT departments, hearing implants are often hardly known. Therefore, it is important to draw the caring staff attention to the system and the fact hat you cannot hear if you are not wearing the processor, or if it is not working.
It is important to avoid misunderstandings in the hospital and understand the doctor's instructions. So, better ask again if you are not sure that you have understood something properly. Repeat what you think the doctor or care assistant has said to quickly spot any misunderstandings. Keep a pen and paper ready, just in case maintaining general communication rules (see info box) is not sufficient to understand everything well.  An information sheet and/or sticker on your  patient file at the bed could be helpful.
If you are asked to await a call, for example, at the outpatient department, then ensure that a visual call system is used or ask that someone draws your attention to the call: loudspeaker announcements are often difficult to understand, even for normally-hearing people.
Examination and treatment with hearing implants
Most examinations and treatments can also be carried out with hearing implants, but with some, some safety measures have to be adhered to. Therefore, inform the doctor giving the treatment early about your hearing implant and keep your implant identification card ready. Information material about medical treatment with your hearing implant system will help the medical staff with planning.
Remind the examining medical staff that all explanations must be given before the start of the examination: if you can't wear the processor during the examination, you will not understand later explanations.
Before an operation, the surgeon should also know about the hearing implant: Mono-polar electrosurgery near the hearing implant could damage it. For an operation under full anaesthetic, you should bring your safe-keeping box, labelled with your name and room number into the operating theatre with you. Remind the operation nurse that you will not hear anything without the processor: ideally, you should get the processor back immediately after waking.
General communication rules for people with hearing implants
No background noise (radio, TV, open window)
Visual contact: do not cover mouth and no other activities during the conversation
Good lighting– in the night at least the bedside lamp
Speak slowly and clearly, but do not shout and do not over-articulate
Helpful printed material and online information for people with hearing implants