Enjoying music with a cochlear implant
In order to listen to music with better sound quality with a cochlear implant, Karl-Heinz Fuchs even gave up five percent speech intelligibility when setting the TEMPO+ processor.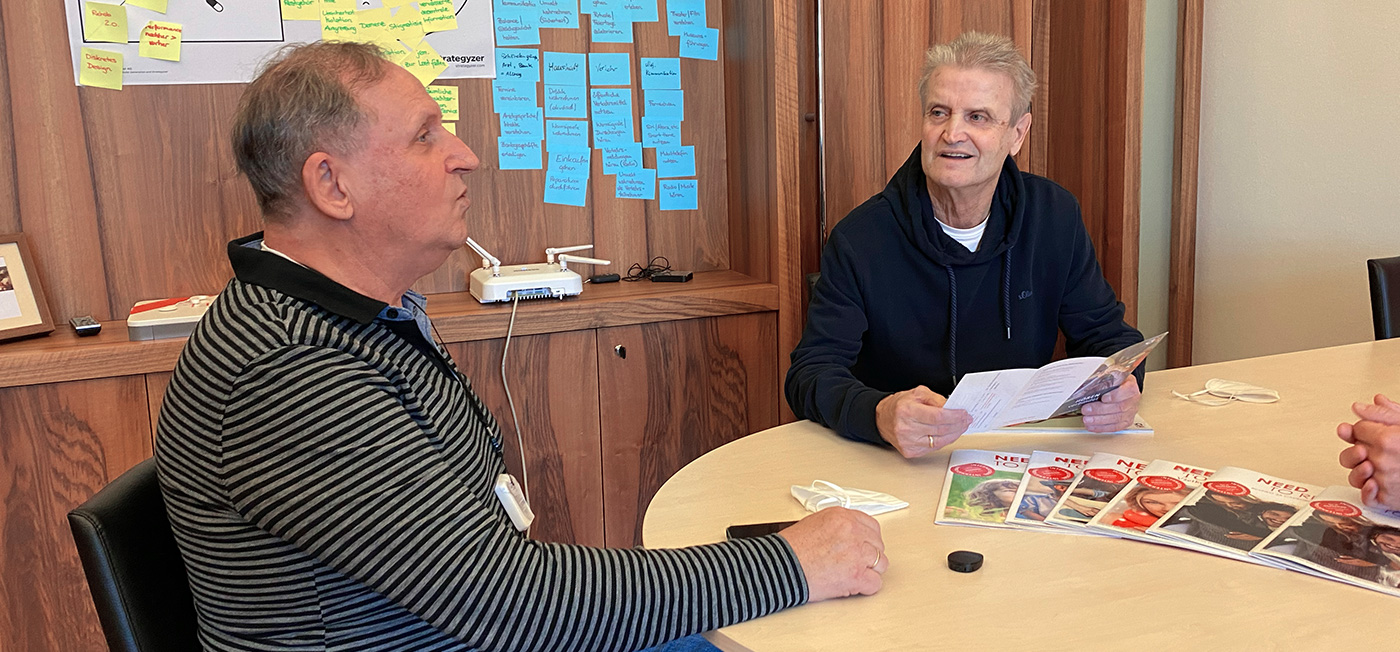 "I feel so broke up, I wanna go home!" is playing from the cell phone speaker. The last chords of the Beach Boys have not yet faded away, and they are already followed by the voices of The Tremeloes. Karl-Heinz Fuchs switches from one piece of music to the next rapidly. "That's exactly how I adjusted my audio processors. I alternately changed from one song to the other and varied the setting up and down first and then I did the fine adjustments. After a year and a half, the music listening became better and I recognized the performers by their voices and could make a difference between an original recording and a cover version."
Karl-Heinz was an average music consumer, before he lost his hearing at the age of 33. "I listened to music in the disco or on the radio." And radio was something the trained plumber and locksmith used quite a lot when he spent three months in the Tyrol and Vorarlberg on business in the summer. "From Bregenz to Innsbruck and Wörgl, the radio program "Autofahrer unterwegs" was always on."
But, that was temporarily over with the deafness. The longing for music was there, but other problems had priority for the time being. The young father not only lacked the ability to communicate due to the loss of hearing, he also suffered from very unpleasant dizzyness as a result of his underlying disease Morbus Menière. "In the 15 years in which I heard nothing, I also had to give up music. The radio was only there for dusting, but didn´t have any other function."
Music with a CI: how to define success?
The first cochlear implants made it possible to hear again, but the sound quality still had much space to develop. "I heard everything somehow unnaturally, like the voices of aliens in the movies," Karl-Heinz Fuchs remembers the CIs of the 1980s. Enjoying music was still out of question; however, during hearing training at the Tyrolean special school in Mils, they also practiced the differentiation of pitches. Better pitch recognition should also improve the recognition of voices and understanding of speech.
The therapist played a tone or a short sequence of tones on the xylophone. The CI users were then asked to search for the tone. Karl-Heinz Fuchs describes these exercises with a laugh today. It was like a kind of guessing game: "I had the additional problem that my facial nerve was also being stimulated. The faster the music was, the faster my eye twitched."
With the switch to the digital implant in 1994, everything changed. "That's when the music came back to me," explains the CIA's executive chairman. "True, I couldn´t understand it the way I used to. But when I was at 100 percent speech understanding after about six months, music also became interesting to me again."
It was the rhythm of the drum that he perceived first. "After a year, I also started to recognize different instrument."
The original version
"I was interested in the music from the time when I could still hear. I have no clue what came after," explains the music collector, who has collected about 4500 pieces of music from the 60s to 70s on USB until now. "I took maybe five or six compositions after that, otherwise all this techno stuff didn't interest me at all."
"Back then, I also went to Hartlauer and said that I would like to have some records. But the young salesman laughed: records don't exist anymore. You can have a CD or a DVD." Over the course of 20 years, the music world had changed. Sometimes, it was even difficult to recognize familiar pieces of music. "After all, I was contaminated by the originals. But cover versions are all around now."
Music fitting instead of music training
He didn't do music training with the digital cochlear implant like back then in Mils, but he did experiment with music. "I found out that the settings for speech and music are different." At the time, the transmission range of audio processors was still limited from 500 to 5000 Hz, and the setting for optimal speech understanding was particularly lacking in the high tones. With a separate program for music, he also perceived the higher tones well. "It was important to me to hear music accurately," he adds.
"My brain can't comprehend it as quickly when I switch." In his search for what he calls "exact music," Karl-Heinz Fuchs made a decision: "I asked myself, what would you do as a person with normal-hearing with only "one program" in your head? I gave up five percent in speech understanding, so I could use only one program for both speech and music."
A passion for collecting
The other day, Karl-Heinz Fuchs, now a grandfather and great-grandfather, even took his harmonica again. "I got it from my mother when I was young." Later, he played for his oldest children – until he lost his hearing ability. "Then, after digital implantation, I started playing for my younger children again."
However, the harmonica is rarely in use today. Instead, the lover of oldie music listens to old hits even more than before. "I had to live completely without music for over 20 years. Now I have tried to organize again all the music pieces of my memory with which I grew up. First as CDs, then on iTunes. There are about 8400 pieces of music so far, and more than 16.4 gigabytes on a USB stick. But it´s over for now, laughs the 72-year-old: "Now I've forgotten the password to iTunes!
Read more about music exerience with a cochlear implant and musical CI-youth here!