Father role in children development and Early Support
The distribution of mother and father roles has changed in our society in recent years. However, the strengths of fathers are still not sufficiently used in the Early Support of children with hearing impairment.
Manfred Hintermair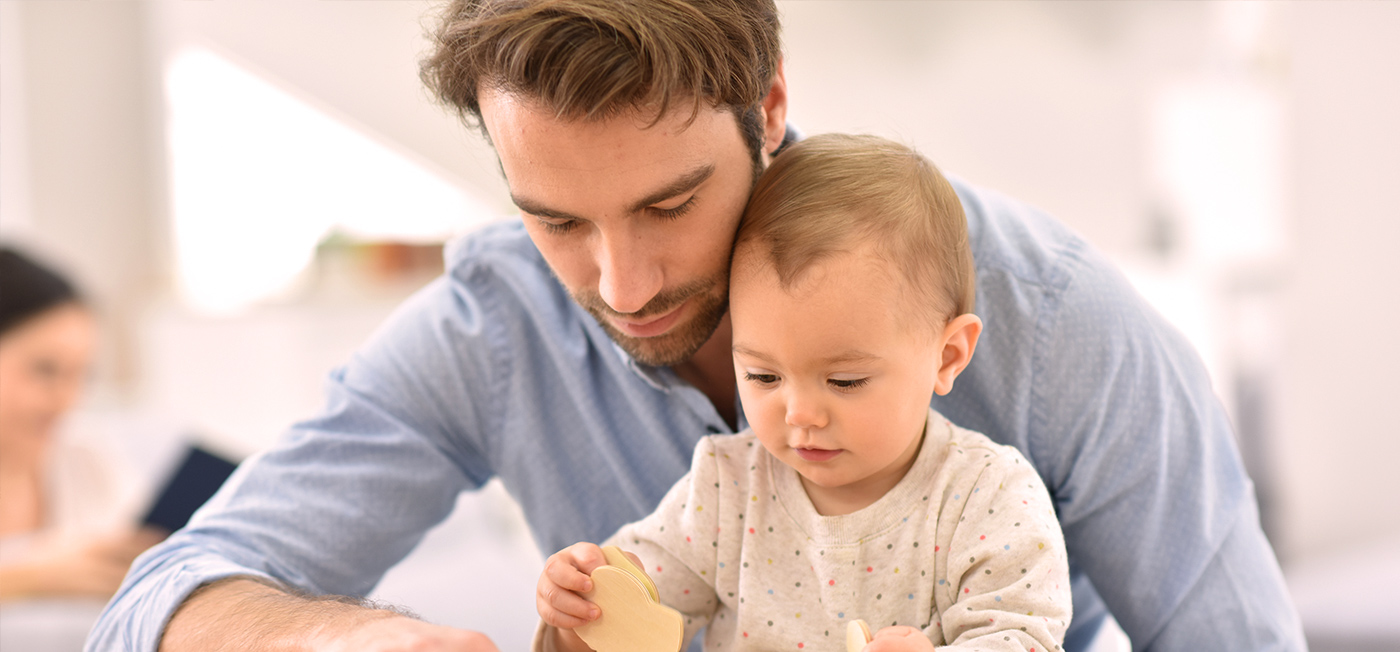 Although the average involvement of fathers in the education and upbringing of their children has increased noticeably, they generally still spend less time with their children than mothers. On the one hand, fathers want to spend more time together with their families today; on the other hand, many mothers want to continue pursuing their professional activities after having children. This contributes to a redistribution of family tasks.
However, most of our knowledge on topics such as stress or dealing with disability still comes from interviews with mothers. If we take a look at Early Support practice, we will notice that it is predominantly mothers who are the contact persons for Early Support. This is surprising, as family-oriented procedures are the goal today and the focus is on all members of the family and their needs.
In any case, it is worthwhile to "get the fathers on board" now!
What fathers can do
There is extensive evidence on the importance of fathers for the development of children without disabilities and their overall significance for the family.
For example, children whose fathers are actively involved in parenting show better language and cognitive development in early childhood. They have fewer behavioral problems in preschool and school and have better relationships with other children in early childhood. These children also develop better self-regulation and prosocial skills; that is, the ability to control their own emotions, self-direct behavior, and help others.
Thus, fathers make an important contribution in the children´s upbringing and have other competencies that ideally complement mothers´competencies.
The role of father: equivalent, but not equal
Equivalent competencies in parenting do not mean that mothers and fathers do everything the same. For example, it is known that fathers play differently with their children than mothers, as they usually prefer more active, "wilder" games. They romp around with children and encourage competitive activities. Fathers are more willing to take risks in the things they do with their child: "We'll easily pack up the steep slide." Fathers also tend to respond more calmly when their child is sad and seeking comfort.
This seems to be helpful for child development. Different ways in which mothers and fathers act offer more varied experiences for the child. It makes the world more interesting for a young child when mom and dad don't do the same thing, but act and react differently with them.
The right relationship
Even with their different approach, the basic qualities of fathers' and mothers' interactions with their children are the same. Parents who do their "job" well respond appropriately to children's needs. They respond to their children's questions, encourage them to explore the environment, and support their learning process. These behaviors include everything we know from research about the role of sensitivity (being sensitive to the child´s signals) and responsiveness (being willing to respond to the child's attempts to communicate) in good development. To make this possible, fathers also have to use the opportunity to participate in parenting as much as possible. Many factors play a role in this, such as fathers' personal interest, quality of family relationships, and cultural influences. It is important that the parents agree in their ideas about parenting and that they have a good relationship between them. Of course, it is hard if the father's work situation obstructs active and intensive participation.
Early Support helps fathers as well
There is not much information about the experiences, needs and involvement of fathers of children with disability. They have not received enough attention so far – in research as well as in educational practice. Fathers of children with disabilities are certainly just as emotionally affected as mothers. Also, they are just as concerned about whether they will be able to meet their child's needs and whether the family will find enough practical and emotional support. Fathers, like mothers, must also revise their life plans and goals after the diagnosis!
There is a close link between how stressful fathers experience the situation with their child with hearing impairment and how much they perceive themselves as self-effective and competent in dealing with their child. The more competent fathers experience themselves, the less they feel affected by the disability. This is another reason why fathers should be more involved in their child's Early Support, as more involvement also strengthens their competencies in their parental role. This is confirmed by the results of a study we conducted on this topic at the Heidelberg University of Education in 2018. Fathers of children with hearing impairment who felt better supported by their child's Early Support program assessed themselves as more competent in relation to the challenges of raising their child.
Fathers express their concerns differently
Fathers usually deal with their child's disability differently than mothers. They tend to react less emotionally to the outside world, also when experiencing the same degree of concern. They often seem to act more rationally and cognitively in their coping behavior. Fathers also tend to be more concerned with problems and difficulties that arise outside the family circle in the context of the disability. For example, applying for care allowance and other social legal assistance, or seeking further treatment options.
On the other hand, mothers are more concerned with daily tasks and challenges of raising and caring for the disabled child. Again, the differences in reactions to the child's disability should be viewed positively. All make their individual contribution to a complex whole!
How to involve fathers in the Early Support
Although fathers have an important role in the parenting process, they are still barely involved in the Early Support. There are many reasons for the low involvement of fathers.
The providers of Early Support services mainly point to the fact that many fathers have to work at the times when Early Support takes place. However, the facilities simulataneously often lack the willingness and also the possibility to offer Early Support services at more variable times. Families often have a traditional understanding of roles, with fathers as breadwinners and mothers as care providers. This understanding of roles implies that child raising is still not perceived as a task for fathers. Of course, there are also families where, for various other reasons, participation in Early Support may be more difficult.
The fathers themselves prefer activities in which they can participate together with their wives or partners. Other activities such as info meetings for men or men's self-help groups, seem to be less popular. Fathers mainly want to learn how to help their child develop. Also, they emphasize that they would participate more if Early Support could sometimes take place in the evening or on weekends. In addition, fathers add that it would make it easier for them to participate if they were explicitly invited by the providers and if Early Support professionals would signal to them that their contribution to child development is valuable.
Source and more information: Hintermair, M. & Sarimski, K. (2018). Erfahrungen von Vätern mit jungen hörgeschädigten Kindern. Hörgeschädigtenpädagogik, 72, 134-149.
---
5 reasons to involve fathers in Early Support!
Fathers play an important role in their children's development and contribute to it in specific ways.
Fathers of children with disabilities are just as emotionally affected as mothers. Therefore, they also need support to cope with this situation.
Fathers often deal with their child's disability differently than mothers. This difference can be used as a strength in the educational support of families. For example, if fathers are specialists in hearing technology, why not use this resource? Fathers should be encouraged to discover and bring their own specific strengths!
Fathers who are actively involved in pedagogical work show a higher level of self-efficacy: they feel more competent in dealing with their child's disability. As a result, they are also better prepared to participate in the support of their child.
If fathers get more involved in their child's upbringing, mothers´stress level is reduced. Involving both parents can therefore contribute to the psychosocial well-being of the family.
The family-centered perspective in Early Support calls for changes that would allow fathers to participate as well. As many of the sessions as possible should happen with the whole family!