SAMBA 2 – Experience with a new sound processor for hearing implants
A new speech processor – the SAMBA 2 has been available for users of the VIBRANT SOUNDBRIDGE and BONEBRIDGE implants since last year. Musician and dad Moritz Scharf has tried out the processor and is thrilled.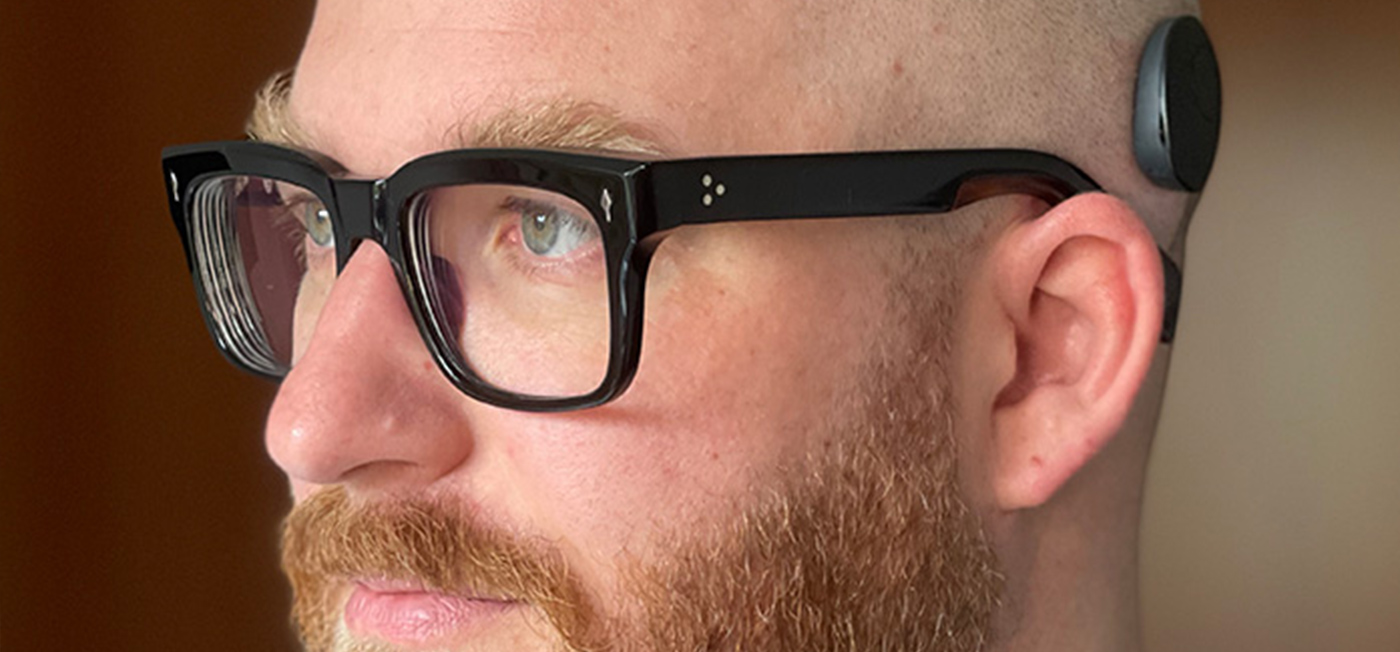 "While I was driving home right after, I was listening to music in the car very loudly. The attempt was really extreme, but it went well." Music is an essential part of life for Moritz Scharf. Not only has he enjoyed listening to it since childhood, but he also composes and plays electronic music himself, and works at a company that builds modular synthesizers.[1]
However, beginning with initial hearing problems at puberty, Scharf lost his natural hearing in his left ear in 2001 almost completely. Disappointed by conventional hearing aids, he decided to go for a BONEBRIDGE implant system – and was convinced by the balanced sound from the start. In February, he took the next step and switched from his previous audio processor to the new SAMBA 2: "This thing is a giant leap!"
The curse and blessing of wearing comfort
"Even the first impression was great, even better than with the SAMBA," but he was able to reach the full potential of the SAMBA 2 with a fine-tuning two weeks later. Scharf uses the hearing system to bridge his damaged middle ear, and the implant directs sound into his inner ear, which is still functioning well. This may be the reason or maybe Scharf's musical practice why he's very sensitive to differences in sound. And for him, the SAMBA 2 is "already like night and day" compared to everything before!
"What's extraordinary for me is that I don't notice when I'm wearing it," he praises the natural sound and wearing comfort – and laughs, "That's a curse and a blessing!" During TV night a few nights before, he was lounging comfortably on the couch, completely forgetting about the processor… and then slipped it off when he nodded off. He doesn't use retaining clips or other fixation devices. "When I pull it off or strip it, I notice the difference right away."
Life with the new SAMBA 2
With the BONEBRIDGE system, communication is much easier for Scharf and speech understanding is significantly better. Scharf likes the new SAMBA 2 GO, which is a remote control and streaming device in one. But he prefers to use the SAMBA 2 Remote cell phone app: "I always have it with me. And I don't need the streaming option." And with SAMBA ", he is impressed by the sound quality, dynamic range and algorithm.
"Only when my little daughter Annika screams with her high-pitched voice, SAMBA 2 can't keep up – but that hurts even people with normal hearing," Scharf smiles. "Luckily, I can then pull the processor off for a moment." But neither slamming doors nor loudly working men are a problem for the SAMBA 2: "That would have rattled unpleasantly in the past. Now, I only notice that the compressor activates sometimes."
"It´s a real replacement!"
"I can now use the SAMBA 2 at volumes I wouldn't have dreamed it was possible before." The "increased head room," as the musician calls the dynamic range that increases security against loud noise, is also helpful for his music making.
The music enthusiast and BONEBRIDGE user has three different music settings in addition to the normal program: for listening to music, for active music-making and for live concerts. "Unfortunately, I haven't been able to try that one out yet because of the Corona measures," sighs Scharf. Instead, he recorded a new record in spring: "I remixed and mastered an old record because I heard it much finer with the BONEBRIDGE. But with the old processor, I still had to consciously work much more carefully – with SAMBA 2, I can proceed quite intuitively."
---
SAMBA 2 – sound quality without distortion
Intelligent Sound Adapter 2.0
The automatic adjustment to your listening environment. In addition, the SAMBA 2 remembers manual readjustments you make in certain situations.
Reduction of background noise
The suppression of persistent sounds such as traffic noise or wind, sudden noises such as slamming doors or clanging dishes, and even distracting background voices.
Speech Tracking
It is helpful if the sound recording focuses on the person who is currently talking to you, especially in the car- even if this person is not directly in front of you.
[1] See a portrait in gehört.gelesen, Issue 3.2020