On the beauty of life and dealing with limitations and pain
Not only do hearing problems worsen in old age, but the question of a good life and quality of life also intensifies at the end of life. Christa Steiner has accompanied people in nursing homes and hospices during the last phase of life and shares her experience with us.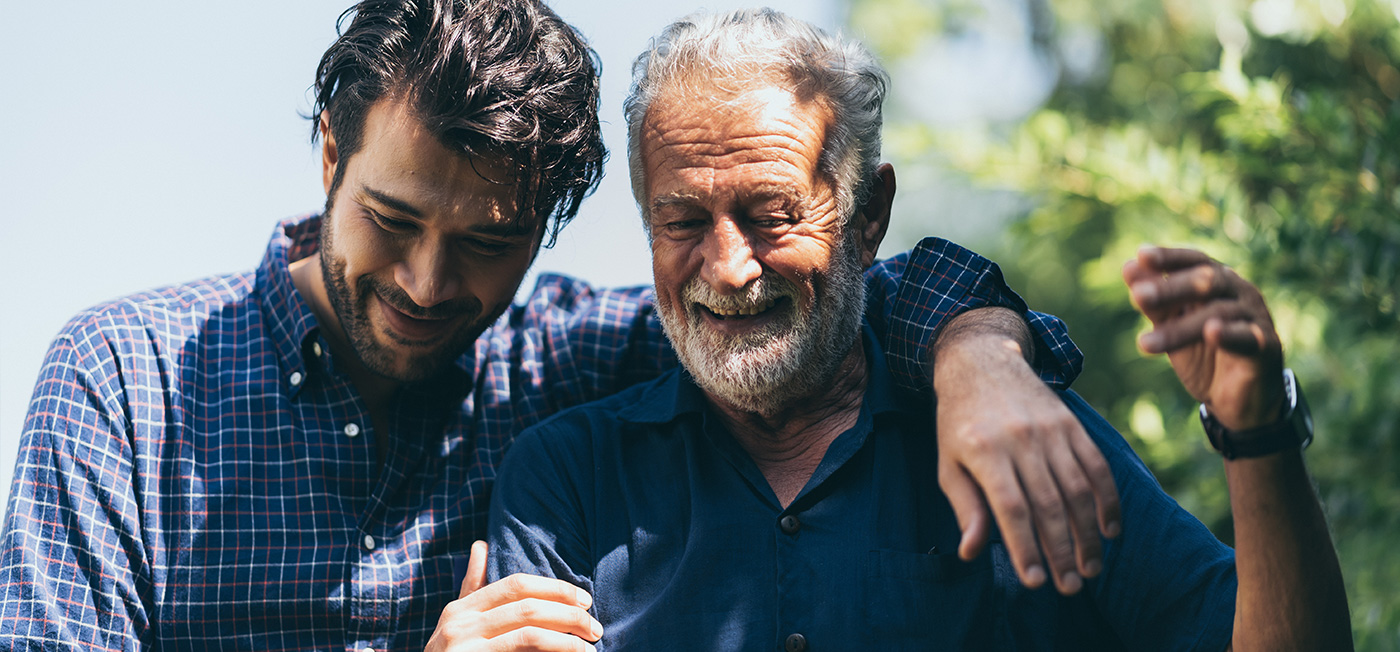 The first thing that comes to my mind is that I have so often met people in a nursing home or hospice who summed it up by saying: "All in all, I´ve had a good life!" Those were often people in wheelchairs or bedridden, with many problems and limitations. At first, someone like me – with a varied life and many possibilities – cannot believe this.
Our image of a successful life is often associated with concepts like self-determination, independence and rational thinking and behavior. "There´s no life for me anymore", is what we often hear from old or sick people in need of care. But this can make us rethink our assumptions and ask ourselves: what is a good life?
What would you consider to be a prerequisite for a good life?
It is not about certain conditions, but about the power to perceive life as good. I would like to invite you to do one experiment. Let´s ask ourselves the following: What makes my life? Is it my job, my family, my hobbies, or something else?
Now, give these things a ranking.
Which of these things could you also do without?
Now, let´s imagine that all of these things are, for some reason, taken away from us. Who are we then? I would not have a slight idea!
What is important to me is that people look back on their entire life. One of the tasks of our late days is also to draw a balance. It is not only the current situation that counts. And what strikes me all over again: people speak of a good life. "Good" sounds modest and, paradoxically, even better than just "happy", "pleasant" or "easy".
I get the impression that you are not entirely happy with the term "quality of life"?
In my opinion, the whole concept of quality of life needs to be "deepened" a bit, and for that we need to change the perspective!
The phrase "to add life to your days, not days to your lives" by Cicely Saunders has become a principle of palliative care. This quality of life "to add life to days" succeeds not only through prolonging life, but by deepening it – which often happens under difficult conditions!
I think that such a deepening is not easy to achieve. Above all, it has nothing to do with activism. And nothing with a presumed knowledge of what good dying must look like. In the end, we have to look at this mysterious event with awe.
From the mystery of dying back to the mystery of good life: What can a good life look like? Even when something does not go according to plan, when we are subject to physical or other limitations. Can we learn to live from the event of dying in this respect?
I´ve learned a lot in my work and I´ve seen the attitudes worth striving for. I hope to grow on my life journey: e.g. in generosity and broad-mindedness, in living a life in a moment or also dealing with pain.
Those who have seen experienced a lot in their life and who were always prepared to learn, to change and to grow – have gained a broader view and widened their horizons. Out of this grows patience and understanding, especially with weaknesses and limits. When you are close to these people, you feel well and accepted!
Important is also to live in the moment: what do we have other than the present moment? The past cannot be changed, the future is not in our hands and in this  moment, everything can be different. When you hear "Enjoy your life" from elderly or terminally ill people, it deeply moves you.
So, you would understand the saying "Carpe Diem" in a sense of "Enjoy the day"?
Absolutely, however, this "Carpe Diem" should not trigger us to feel breathless greed for life but to have gratitude for it as it is. To enjoy the simple things, everyday life and surprises. These are all possibilities that life brings!
I do not want to relativize or romanticize age, pain or suffering, that would be cynical. But I have experienced testimony of people that give me hope. For example, Mrs. Schmitz* was in a lot of pain after the knee surgery, but she also had some words of wisdom to share with others: "Only one part hurts at a time." She could see a big picture and did not get lost in the pain. She remained the master of the situation.
There are always so many different things in our life that happen simultaneously: the well-being and possibilities, happiness and pain, sadness and joy. And open view and wide perception help us in life! I can have an influence with my conscious gaze: if I pay more attention to the positive things, rather than negative ones. There is always the possibility of transformation.
And what about those things that do not change and bring only pain and regret?
I understand this now: grief is just as important. In every life, there are goodbyes. To people, relationships, opportunities and abilities. In terminal care, these farewells are the subjects of many conversations. At the first glance, this is unpleasant for both conversation partners. But it is also liberating and healing!
Grief is not only a painful process that should be overcome as quickly as possible. It is also an important ability that allows us to appreciate the preciousness of these people and relationships, possibilities and abilities. The pain of parting grief is the reverse of love, but love remains even when so many other things are lost. This is what people experience when they look back at life.
It is important to accompany people in a mourning process. In conversation, they can bring distressing feelings "outside". This process brings relief. The "wound" does not remain closed in secret. As the saying goes, "A wound needs air" to heal.
But a conversation also requires a certain level of hearing. Is that sometimes a problem with older people?
In my contacts with the elderly during my professional career, limitations or loss of sensory functions were indeed very frequent. For the affected, this is serious and stressful. The senses open the whole world for us: communication, relationships and life in community, as well as different experiences of beauty and pleasure.
When people can hear, we reach them with our verbal information – this gives them security, allows them to make decisions and act adequately. Not hearing isolates people, makes them sad and lonely.
In dying people, the weakness of consciousness often makes verbal communication difficult. A caregiver must listen carefully and with full concentration. There is an expression in English "to be all ears". But a good support of the dying, we should learn to use other "channels" as well: eye contact, touch, and physical closeness. I think we can also use more of these channels in general! To talk to each other, to get into contact – if not in words, then in looks, touches etc.
*Name changed for privacy reasons