Celebrities who experienced deafness
Ludwig van Beethoven would this year reach the grand age of 250 and is probably the best-known celebrity in the world with a hearing impairment. However, there are many other historic personalities who suffered similarly, yet still made a lasting mark on the world. We have taken a closer look at four of these people.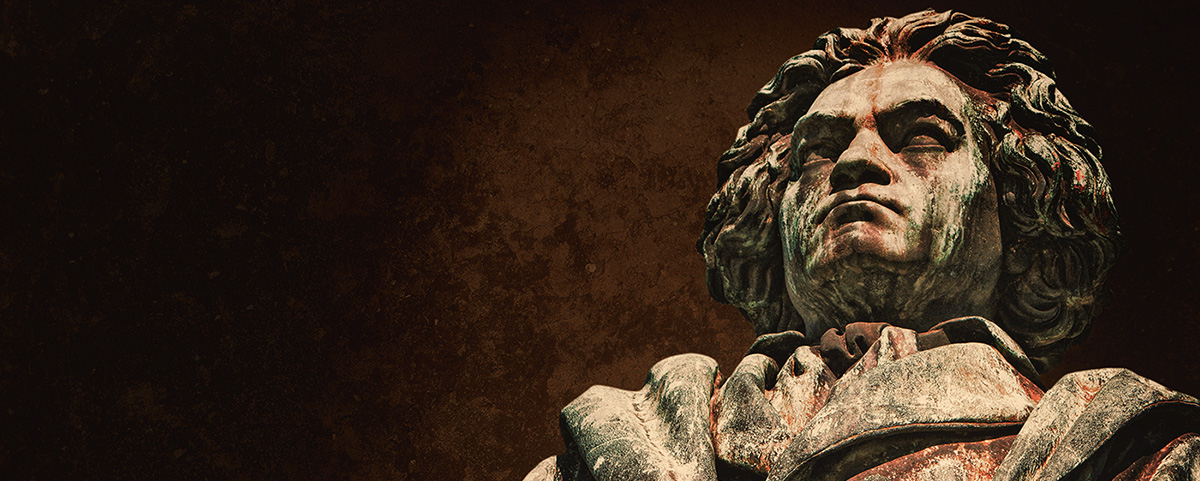 So, let's start with him: Ludwig van Beethoven. What made him stand out? He was a revolutionary - maladjusted, difficult, emotional, inspiring, unique. He was really well-known, a part of Vienna high society, in whose midst the composer, born in Bonn, lived for 35 years. A true ladies' man and restless changer of residence. As he was one of the brightest stars in the triumvirate of Vienna classical music, the hearing difficulties set in in the middle of his just 57-year life, which subsequently led, as is well-known, to complete deafness. This meant that the highly gifted musician had a difficult path. A defining part of his life was lost to him unstoppably and he ultimately chose the social isolation of the hard of hearing.
In the Heiligenstadt Testament, a letter to his brothers Kaspar Karl and Johann in 1802, he compellingly describes his despair at the advancing deafness and the death he thought was approaching. This letter was written in one of the more than 50 residences he lived in in Vienna – in today's Beethoven Museum in the Probusgasse in picturesque Nussdorf. Together with many other important exhibits, you can also now recreate the loss of his hearing at special listening stations.
The adult education centres in Vienna also dedicate themselves among other things to this theme in the context of the art project Being Deaf in the City of Music– Ludwig van Beethoven in Vienna. There is also a "photo walk" of the residences and memorials to the musician. So, the culture scene this year is dedicated not just to his wonderful musical works, but also to this, for him fateful, subject - his ultimately complete hearing loss. In spite of this, he composed probably the most famous symphony, the 9th symphony, when he could only hear it in his head. Its 4th movement, named Ode to Joy, not only represents the basis of today's European Anthem, but has conquered the world like Strauss's Blue Danube.
Magnificently bleak
The virtuoso painter, etcher und lithographer Francisco José de Goya y Lucientes, known as Francisco de Goya, is regarded as one of the Spanish leading lights in his art.
He initially painted in light colours in the Spanish rococo style. After suffering a stroke at 46 years old in the late 18th century, Goya's life changed drastically. He became deaf and due to his changed sensory perception, he developed not just a different use of colour in his works, but a critical view of his environment. In the following years, he became more and more withdrawn, and concentration on his bleak existence gave rise to nightmarish depictions of war, injustice and madness. However, his most famous works come from precisely this time, for example his Los Caprichos series and shortly afterwards his painting La Maya Desnuda, which is also amongst his most scandalous paintings.
In the later stages of his life, he is regarded as representing the so-called Dark Romanticism, a nightmarish undercurrent of the Romantic Age, which spawned many famous works in both visual art and literature. The importance of his Las Pinturas Negras - "Black Paintings" – with the sometimes grotesque and almost witch-like faces, which he painted on the walls of his cottage illustrate his dark prevailing mood. Today, they have been transferred to canvas and restored and can be admired in one of the world's great art galleries – the Prado, Madrid's renowned art museum.
Overall, Francisco Goya is regarded as one of the most important illustrators of the human psyche, not least probably due to the traumatic experience of the complete loss of hearing.
Hearing One's Own Voice from a Machine
From the art of music and painting to the art of inventing: Thomas Alva Edison, who made electricity and electrical technology his mission in life, is regarded as one of the most famous inventors from America. The inventor and free thinker, born in the mid-19th century, had hearing difficulties from his childhood and was hard of hearing his whole life. To this day, historians do not agree on the cause. Everything from scarlet fever to a blow on the head have been suggested as possible triggers.
Nonetheless, he dedicated himself for some years to telegraph technology, which ultimately took him after about ten years to the development of the so-called phonograph. This was something completely new to the world, because this invention led to the discovery that texts stored on punched paper strips generated vibrations and notes when extracted quickly from the mechanism of the telegraph. He wrote that hearing his own voice was gripping. He was never fully deaf but had a severe impairment. This revolutionary invention is thus all the more astonishing, in a similar way to Beethoven and his music.
Eventually, Edison also invented the first functioning light bulb and the components necessary to supply energy to it. For us today, he was thus a great man who changed the world for ever in respect of technology.
Western Hero and Statesman
A little bit more recently, in the 1980s, we remain in the United States of America. Ronald Reagan, 40th president of this world power, previously a famous hero of Westerns on the cinema screen, also suffered with a significant hearing loss. Reagan's hearing was presumably generally damaged by his long military service. The hearing loss in his right ear could be traceable to a gun being fired while directly against his head- an obvious textbook noise trauma.
He wore his hearing aid confidently and with pride. He did not hide it from public view, which led to increased sales of hearing aids. The feeling of stigmatisation for wearing hearing aids is still decreasing today and it is comforting to observe that the use of hearing technology, be that conventional hearing aids or implant systems, has in the meantime become almost normalised in many places.
We can look at the many possibilities for improving or re-instating hearing in the future – correction, the present - with reassurance and gratitude, and conclude that the worst fate that all the people mentioned have in common, that is, of having lived at the wrong time, need not befall our current society.